The T.E.A.C.H. Program aims to enhance in-service and pre-service teachers' psychological competence (i.e., creativity, curiosity, love of learning, judgment, and perspective), thereby enabling them to have more positive attitudes, greater motivation, higher self-efficacy, and increased pedagogical competence in online learning and teaching. It incorporates several features to enhance participants' learning experience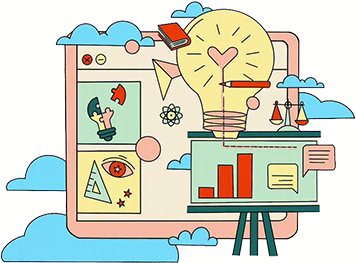 Lecture videos, readings, e-learning resources, and interactive activities to increase knowledge and skills in using psychological competence for online learning and teaching (L&T)


Practical Tips and Suggestions

Demonstrations of digital education tools and practical suggestions on their application for attendance and participation, engagement, and assessment ​​​​​​​


Reflection Exercises and Quizzes

Worksheets and short quizzes at the end of each module to consolidate and enrich the learning experience complemented with a personal portfolio to track the learning progress


This program is designed for in-service and pre-service teachers who wish to apply digital education tools to enhance the quality of online teaching. No previous background in online teaching is necessary, but participants should have proficiency in their subject knowledge and have a basic foundation in the teaching skills necessary for professional practice.

​​​​​​​Psychological competence is conceptualized as a type of personal resource, which enables individuals to prepare for future challenges, pursue challenging objectives, and persevere in goal pursuit in spite of obstacles, thereby fostering higher levels of performance and well-being. The content of this program is designed based on the wisdom strengths from positive psychology as a theoretical framework and adapted to the educational context to cultivate psychological competence for teachers to effectively undertake online teaching. The dimensions include:

Think in divergent ways to generate new online L&T ideas that are both original and functional for enhancing student learning outcomes in online and virtual classes.

Explore, discover, take an interest in experiences, and build new knowledge in L&T by being open to the online teaching format and seeking novelty in online teaching approaches.

Acquire new levels of online L&T knowledge, competency, and efficacy and deepen existing L&T knowledge and skills in a significant and meaningful way, as motivated by a passion to learn.

Compose decisions for the online curriculum based on rational and logical choices, and critically evaluate different L&T ideas, opinions, and facts for online transition without jumping to conclusions.

Harness multiple points of view and see the bigger picture of online L&T in order to address important and difficult e-learning issues and determine the best course of action for using ICTs.
This programme consists of five modules, with each focusing on a specific domain of psychological competence (creativity, curiosity, love of learning, judgment, and perspective) and applied to the 'three foci' for online L&T (attendance and participation, engagement, and assessment). The modules consist of lecture videos, readings, practical tips and suggestions, and e-learning resources. The learning experience is consolidated and enriched by a series of interactive activities, practice exercises, critical evaluations, reflections, and short quizzes.
Curiosity to learn and discover the knowledge, skills and abilities needed for online teaching

Love of learning about the utility and application of digital technology in online teaching

Creativity in generating innovative ideas for participation, engagement and assessment in online lessons

Perspective of potential benefits, challenges and issues pertaining to e-learning

Judgment about how an online curriculum should be feasibly and practically designed